Taka Dive CNS Fri SYD [DiveT5]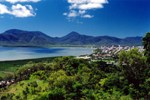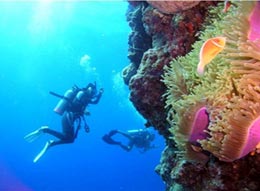 10 Days / 8 Nights - Cairns, Live-Aboard Diving Expedition and Sydney - Cairns, Live-Aboard Diving Expedition, Sydney
This itinerary departs from the USA on Tuesday evening. Stay in Cairns for one night before you board the diving vessel the next evening (Friday). After disembarking from the dive vessel stay in Cairns for one more night then travel to Sydney for 2 nights. Your arrival day back into the USA will be on Friday morning.
Australia's north eastern town of tropical Cairns is the gateway for two of the world's greatest diving icons, the Great Barrier Reef and the Coral Sea.
The dive vessel departs Cairns 5:10 pm Friday and returns 3:00 pm the following Tuesday. You will be transferred to and from your accommodation in Cairns.
Travel Package Features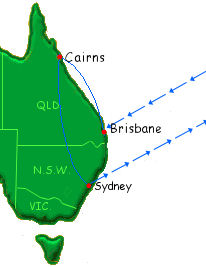 Accommodation - Cairns (1 Night), Live-Aboard Diving Expedition (4 Nights), Cairns (1 Night), Sydney (2 Nights)
International Flights - Los Angeles to Cairns (via Sydney), Sydney to Los Angeles
Australian Domestic Flights - Cairns to Sydney
Shuttle Transfers - Cairns Airport to Accommodation (return), Cairns Accommodation to Live-Aboard Dive Boat (return), Sydney Airport to Accommodation (return)
All Other Day Tours are Optional and not included
Visa Issuance for entry into Australia (US$15.00 per person)
F.I.T. (Free & Independent Travel, i.e. this is not an Organized Group Tour)
All Taxes and Fuel Levies (Except where noted)
Itinerary is flexible and can be tailored to suit your needs.
Travel Package Detailed Itinerary
Day 1 (Tues) - International Flight - Los Angeles to Cairns

Shortly after departing Los Angeles you will be served dinner and you will be given breakfast before landing.

Relax, watch some movies, and try to get some sleep!


Please confirm with the airlines at Check-in that they have all your Frequent Flyer information on record.

Day 2 (Thur) - Shuttle Transfer Cairns Airport to Accommodation

Travel by shuttle from the Cairns Airport to your vacation accommodation in Cairns, Australia.

Departures occur approximately 30 minutes after aircraft arrival-time for domestic flights. For international flights this will be considerably longer because of customs and other formalities.

Days 2 to 3 (Thur - Fri) - 1 Night Accommodation in Cairns

Travel to your accommodation Cairns, Australia, where you will be staying whilst on vacation for 1 night.


Your 4.5 star accommodation combines contemporary decor with a tropical ambience. The magnificent location of this 176 room hotel is perfect for exploring the Great Barrier Reef, the Daintree Rainforest or Kuranda and the Atherton Tablelands. Other nearby highlights include: Cairns Casino, Marlin Jetty, the Esplanade and the Night Markets. Unwind with a cocktail by the pool or bar followed by a sumptuous meal at the award winning Bushfire Flame Grill.

All rooms and suites have individual balconies, individually controlled air conditioning, refrigerator, television, broadband internet access, hair dryer, iron and ironing board, along with tea and coffee making facilities. Facilities include: 24 hr reception, tour desk, free wireless internet, Bushfire Flame Grill, bar, pool, business services on request, coin operated laundry on four floors, room service, laundry & dry cleaning.

Days 3 to 7 (Fri - Tues) - 5 Days Live-Aboard Diving Expedition

COD HOLE & CORAL SEA (OSPREY REEF) TOUR.
5 Days / 4 Nights (4 Full Days of Diving). Departs Fridays includes up to 14 dives (including 2 night dives)


Sample Itinerary

Friday:
The first evening we travel overnight 150km to the Cod Hole. During this time, passengers organize their dive gear or hire gear. We also have a brief period of introduction followed by paperwork and a briefing on the schedule for the next day. Dinner is served and the rest of the evening is for relaxation.

Saturday:
Breakfast
Arrive at the Cod Hole, dive briefing.

Dive 1:
Familiarization with the Cod Hole. Check out dive for those who have done less than 50 dives or have not dived in the past year. Likely Sightings include Giant Potato Cod, Moray Eel, Reef Sharks & Maori Wrasse.

Dive 2:
Cod Feed at the Cod Hole- Close encounters with the Famous Potato Cod.
Lunch

Dive 3
Pixie's Pinacle/Reef/Wall or Challenger Bay - Likely Sightings include Lion Fish, Nudibranchs, Garden Eels & Barracuda.
Afternoon rest & snack.

Dive 4
Night Dive at Challenger Bay - Likely Sightings include Cuttle Fish, Sea Turtles, Reef Sharks & Manta Rays.
Evening Meal

Sunday:
Breakfast
Arrive at Osprey Reef in the Coral Sea.

Dive 5
North Horn. Wall Dive with drop-offs to 100m. There is a fantastic variety of sharks swimming off the wall- such as Gray Whalers, White Tip & Black Tips, Hammerheads, A Giant Potato Cod and the occasional Bull Shark.

Dive 6

North Horn SHARK FEED. Divers observe this amazing spectacle from 15m sitting on dead coral palettes. The SHARK FEED can last anywhere from 5min to 30min depending on how many and how hungry the sharks are. Once the feed is completed, once the instructors gives the 'all clear', the divers can leave the wall and continue the dive.
Lunch

Dive 7
Half Way Wall. Sightings include interesting coral formations, Feather Stars and Green Sea Turtles.

Dive 8
The Entrance. Sightings include Puffer Fish & Clown Fish.
Evening Meal
Depart Osprey Reef and head back to the Great Barrier Reef.

Monday:
Breakfast
Dive Briefing

Dive 9
Clam Gardens. Likely Sightings include Giant Clams (150-200 y/o)

Dive 10
Steve's Bommie. Likely Sightings include Red flame File Shell, Stone Fish, Wobbegong Sharks, Turtles & Thousands of schooling Anthias.
Snack

Dive 11
Temple Of Doom. Sightings include Flatworms & Clownfish.
Lunch followed by afternoon rest.

Dive 12
Beer Gardens. Sightings include Sleepy Turtles & Parrot Fish.
Evening Meal

Tuesday:
Dive Briefing

Dive 13
Hogs Breath. Sightings include Angelfish & Clown Fish.
Breakfast

Dive 14
Split Bommie. Sightings include Octopus & various Butterfly Fish.
As we sail back to Cairns, passengers have plenty of time to rest and relax in between snacks and lunch.



Days 7 to 8 (Tues - Wed) - 1 Night Accommodation in Cairns

Travel to your accommodation Cairns, Australia, where you will be staying whilst on vacation for 1 night.


Your 4.5 star accommodation combines contemporary decor with a tropical ambience. The magnificent location of this 176 room hotel is perfect for exploring the Great Barrier Reef, the Daintree Rainforest or Kuranda and the Atherton Tablelands. Other nearby highlights include: Cairns Casino, Marlin Jetty, the Esplanade and the Night Markets. Unwind with a cocktail by the pool or bar followed by a sumptuous meal at the award winning Bushfire Flame Grill.

All rooms and suites have individual balconies, individually controlled air conditioning, refrigerator, television, broadband internet access, hair dryer, iron and ironing board, along with tea and coffee making facilities. Facilities include: 24 hr reception, tour desk, free wireless internet, Bushfire Flame Grill, bar, pool, business services on request, coin operated laundry on four floors, room service, laundry & dry cleaning.

Day 8 (Wed) - Shuttle Transfer Cairns Accommodation to Airport

Travel by shuttle from your Cairns vacation accommodation to the Airport in Cairns, Australia.



Day 8 cont (Wed) - Australian Domestic Flight - Cairns to Sydney

Travel within Australia by domestic air from Cairns to Sydney.



Day 8 cont (Wed) - Shuttle Transfer Sydney Airport to Accommodation

Travel by shuttle transfer from the Airport to your vacation accommodation in Sydney, Australia.



Days 8 to 10 (Wed - Fri) - 2 Nights Accommodation in Sydney

Travel to your accommodation in Sydney, Australia, where you will be staying whilst on vacation for 2 nights.

Embrace Sydney's best location with this four star vacation accommodation ideally nestled in the heart of the city. Overlooking Wynyard Park you will enjoy this icon of time-honored tradition, warm hospitality and friendly personal service. Just a short stroll away from many famous attractions including the Sydney Opera House, The Rocks, Sydney Harbour Bridge, Darling Harbour, The Royal Botanical Gardens and more. You will love the luxury of the close accessibility to public transportation including light rail access, train station, the bus system and nearby Circular Quay which will allow you to see much more of Sydney and surrounds. Featuring: 446 elegantly appointed guest rooms and suites, 2 restaurants, 4 bars, indoor heated pool, sauna, spa, and gymnasium. Amenities: air conditioning, daily maid service, fridge, iron & board, radio channels, shower, coffee & tea, ensuite bathroom, hair dryer, shaving adaptor, sprinklers, smoke detectors, television, telephone, internet access (broadband), data port, wake up calls, mini bar, and 24 hour room service. With all this and more take time out to experience the wonders of Sydney while enjoying all your accommodation has to offer.

Upgrade Available (Upon Request): Stunning 5 Star Property - Fees Apply

Day 9 - Free Day to Explore Sydney

With Sydney at your fingertips, take the chance to explore the Darling Harbour area at your leisure, which is a modern collection of Shopping Malls, Parkland, Restaurants and Harbour Front activities.

Walk to Circular Quay and catch a ferry to our wonderful harbour-side Taronga Park Zoo, or take the 30 minute ferry ride to Manly Beach, Sydney's premier beach resort. Here you can enjoy the laid back beach culture as well as many festivals and events. If you prefer to stay closer to downtown Sydney, Bondi Beach is approximately a 10 minute train ride and is one of Australia's most famous and iconic beaches. Save some time to take a beach walk from Bondi Beach to Bronte Beach, it's known to be a true highlight. If visiting on a weekend then go to the Rocks Market and shop for local Arts, Crafts & unique Australian Souvenirs.

Optional Day Tour (Not Included) - Opera House Tour

This inspiring tour provides a once in a lifetime opportunity to venture inside one of the world's most recognised global landmarks.

<a href="//youtu.be/C2UPo8f7EpE" target="_blank"><img src="//abt-aus-images.s3.amazonaws.com/images/Sydney-Opera-House-Tour-Australia.jpg" width="350" height="197" class="alignleft"></a>

</b>
This one hour tour outlines the intricate and controversial history of the Sydney Opera House along with details of the unique design of this architectural masterpiece. You will visit a number of the six performance venues, including the magnificent wood paneled Concert Hall and the Opera Theatre as well as the new Utzon room. You will also visit the glass enclosed northern foyer areas which boast spectacular views of Sydney Harbour - a perfect photo opportunity.

Optional Day Tour (Not Included) - Bridgeclimb

On your vacation climb the famous Harbour Bridge in Sydney.

<a href="//youtu.be/vNBOOE8Lydk" target="_blank"><img src="//abt-aus-images.s3.amazonaws.com/images/Sydney-Harbour-Bridgeclimb-Australia.jpg" width="350" height="197" class="alignleft"></a>

Achieve exhilaration and personal satisfaction as you climb the Sydney Harbour Bridge. For approximately two hours you, along with 11 other eager climbers and a climb guide, weave through catwalks, climb up ladders and then arrive at the most spectacular point of all - the upper arch climb. The steady incline to the upper arch leaves you free to focus your attention on your Sydney experience, with opportunities for 360 degree views of Sydney, including east to the ocean, west to the mountains and the harbour city surrounds.

</b>
It is at this point that you not only have a bird's eye view of the beautiful Sydney Harbour and the city, but have the exhilaration of the truly rewarding experience of reaching the top to the Harbour Bridge in Sydney, Australia. When you reach the top you will have a sense of achievement that you'll remember forever - you've conquered an Australian icon recognised the world over! No other Sydney tourist attraction can give you this feeling of standing at the top of the world, with the Harbour spread before you. All climbers will be issued a complimentary photograph of your climb group.

Photo Credit: Bridgeclimb Sydney

Optional Day Tour (Not Included) - Blue Mountains

The Blue Mountains Deluxe Day is a real journey into the heart of a unique World Heritage Region. From temperate rainforests to towering sandstone escarpments, you'll see and experience it all. Join us, let the landscape work its wonders and become part of you for a lifetime.

Upon departing from the city, you will travel directly to the Blue Mountains and your first stop of the day is at Calmsley Hill Farm a working farm also home to Kangaroo, Emu, Wombat and Koala. Enjoy morning tea and time to wander at leisure.

From Calmsley Hill you will continue to ascend the Blue Mountains via the highway. Visit one of a range of stunning outlooks of the Jamison Valley seeing beautiful vistas. Where possible this will be away from the crowds of tours that visit the mountains each day with other operators, thus you will have the opportunity to enjoy a stress and hurry free environment taking in the views and information imparted by your guide.

Continuing on you will arrive at Eaglehawk Lookout, a remote lookout points away from the crowds for views of the famous 3 Sisters. Whilst the Blue Mountains features so much more than this natural attraction you can't help but admire the unquestionable beauty of this amazing rock formation. The character of the Three Sisters changes throughout the day and throughout the seasons as the sunlight brings out the magnificent colours. Here your guide will discuss the legends behind this famous rock formation and time available for you to take some great photos.

Next you will be taken around the mountain towards the village of Blackheath and our lunch venue the Boiler House Cafe. Here in this relaxed venue with stunning views, you can enjoy a 2-course lunch with tea or coffee. All diets are catered for (excluding Kosher Meals). Please note that beverages can be purchased at your own expense from the Bar.

The afternoon is spent visiting a selection of lookouts. Once you clap your eyes on the view from Govetts Leap you'll know why it's one of the most famous lookouts in Australia. The magnificent waterfall drops a whopping 180m to the base of the cliff. If you're not mesmerized by the dancing waves of water spray, you'll be transfixed by the sweeping views down the valley to the Grose Wilderness. We then stop briefly to enjoy a glass of sparkling wine or orange juice at the delightful Mt Tomah Botanic Gardens our last stop, where we enjoy the sweeping views across to Sydney before travelling down the Bells Line of Road to arrive back at your hotel approximately 4:30pm.

Day 10 (Fri) - Shuttle Transfer Sydney Accommodation to Airport

Travel by shuttle from your vacation accommodation in Sydney, Australia, to the Airport.



Day 10 cont (Fri) - International Flight - Sydney to Los Angeles

Depart Sydney from the International Airport and fly to Los Angeles. Note: You will be traveling back across the International Date line so you will gain a day. You actually arrive in the USA on the same day you leave Australia.


All prices are in US dollars and correct as of December 18, 2018. Pricing is from "per person" based on Double Occupancy (2 Adults) in hotels. Single Supplements apply. Upgrades available on request (upgrade supplements apply). No refunds allowed. Changes are permitted (fees may apply). Other restrictions may apply. Not combinable with any other offer or discounted vacation package. About Australia reserves the right to adjust the amount of any outstanding balances at any time according to USA Exchange Rate variations. All taxes, GST & Fuel Levies are included in the Price unless specified otherwise. Prices may vary when you book your travel package and are not guaranteed until payment in full is received. Airlines, hotels and tour operators frequently change their prices as a result of rate increases, fuel surcharges, government imposed taxes or fees. Prices may increase prior to full payment for those and/or other reasons. All prices, itineraries and routings are subject to change. After full payment, prices are guaranteed except only due to an increase in government imposed taxes or fees. By paying your deposit, you understand and agree to the possibility of such increases.

Flights, where included, will be operated by Qantas or their code-share partners; flight Taxes & Fuel levy included; Economy Flight Class of Service. Flights maybe based on Fares which can not be held in advance of purchase, same day ticketing may be required.
Visa required additional $15 per person.

<b>Permitted US Departure Dates: TUEDAYS ONLY June 18, 25, July 2, 9, 16 & 23, 2019
</b>

Subject to availability. Blackout dates and seasonal supplements will apply; these vary by travel vendor and are subject to change. Travel may be permitted outside the dates listed, but may attract seasonality or special event surcharges.

All hotels are centrally located, inspected and approved by About Australia.

Tour Restrictions:
Diver's Den Ocean Quest departs on Tuesdays and requires a $20 per person per day Marine Park Levy & Port fee and may require a fuel levy, should the world-wide price of fuel increase. Pricing based on a Twin Share Cabin. Diving equipment is not included.

Sydney Opera House tour does not operate December 25 & 31, 2018, January 1, March 10, April 19, August 31, & September 1 2019.

Contact About Australia directly to get a firm quote based on current prices for your preferred travel dates.
 
<B><font color='red'>Book By: January 31, 2019</font></B>

 Book your Australian Vacation Today
 
<B><font style="font-size: large;" color="red">Call 888-359-2877</font></B> (8:30am - 5:00pm, CST USA)
 
To customize this itinerary, or check availability for your travel dates, please use the 'Request-A-Quote' button (below)



Print | More Information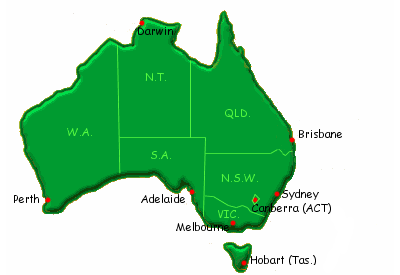 Click the following link to request a booking. Upon receipt of your request we'll prepare a Firm Quote for your travel dates:
[
Request a Firm Quote
]