Dive Lord Howe Island Option 2 [DiveLHI2]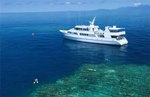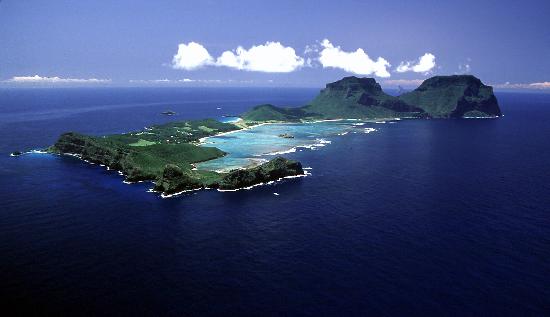 12 Days/10 Nights
Lord Howe Island, Great Barrier Reef & Live-Aboard Diving Expedition on Spirit of Freedom
This itinerary departs from the USA on Friday evening with arrival into Australia on Sunday.
Stay on Lord Howe Island for 3 Nights, then off to Cairns for one night before you board the diving vessel the next morning (Thursday) via low altitude flight. After disembarking from the dive vessel, stay in Cairns for two more nights. Your arrival day back into the USA will be on Wednesday morning.
Lord Howe Island is widely regarded as the most beautiful island in the Pacific. It's less than two hours flying from either Sydney or Brisbane off Australia's east coast. It is one of just four island groups to be inscribed on UNESCO's World Heritage list for the global significance of its natural beauty and heritage. The crystal lagoon is bordered by the world's most southerly coral reef. Just wander in off the beach to snorkel among colourful tropical and sub-tropical fish, turtles and other marine life. Or head further off-shore to SCUBA dive on world-class sites. The water is so clean and clear, it's like swimming in an aquarium. Families love the safety and variety of kids' activities; lovers find romance in the island's secluded corners, natural beauty, luxury lodges and fine dining establishments.
Australia's north eastern town of tropical Cairns is the gateway for two of the world's greatest diving icons, the Great Barrier Reef and the Coral Sea. It is also the base for the awesome Spirit of Freedom 120ft Liveaboard dive boat
The dive vessel departs Cairns Thursday morning via low altitude flight, and returns in the morning the following Monday. You will be transferred to and from your accommodation.
Cairns the colourful, sophisticated capital of the tropical north is alive with life and charm. Experience the majesty of this underwater playground which is one of the Seven Natural Wonders of the World, and is known as the Gateway to the Great Barrier Reef. Here, warm northern hospitality and enthusiasm are the order of the day. With many unique attractions and activities such as a cruise to the reef or islands, a 4WD safari to the outback, trek into the rainforest or see it from the rainforest cableway above its green canopy on your way to or from Kuranda. These year round natural attractions are truly memorable and inspiring.
Travel Package Features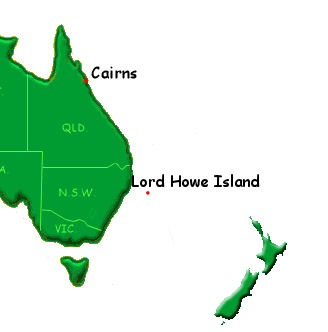 Accommodation - Lord Howe Island (3 Nights), Cairns (1 Night), Liveaboard (4 Nights), Cairns (2 Nights)
Live-Aboard Dive Expedition includes: Opportunity for 15 dives on the Great Barrier Reef, En-suite cabin with daily service, Chef prepared meals, Australian wines & soft drinks with evening meals.
Live-Aboard Shuttle Transfers: Cairns: Accommodation to Live-Aboard
Day Tours: Scuba Dive Lord Howe Island (4 Dive Package)
Shuttle Transfers - Cairns, Lord Howe Island: Airport to Accommodation (return)
International & Australian Domestic Flights - Los Angeles to Lord Howe Island, Lord Howe Island to Cairns, Cairns to Los Angeles (via Brisbane)
US Domestic Flights (Not Included) - Hometown to Los Angeles (Return)
Visa Issuance - Provides entry into Australia (USD$15.00 per person)
F.I.T. (Free & Independent Travel) - i.e. Not an Organized Group Tour
All Other Day Tours are Optional and Not Included (Is an additional cost)
Travel Package Detailed Itinerary
Fri (Day 1) - International Flight from Los Angeles to Sydney

Travel to Australia on your vacation. After departing from Los Angeles you will be provided with an evening meal. You can relax, have a drink, watch a movie, review your itinerary or just rest. You will be given Breakfast before landing in Sydney, Australia. (You lose one day crossing the International Date Line but don't worry you catch it up again on your return flight to the USA)

Please confirm with the airlines at Check-in that they have all your Frequent Flyer information on record.

Sun (Day 2) - Domestic Flight from Sydney to Lord Howe Island

Travel within Australia by domestic air from Sydney to Lord Howe Island.



Sun - Wed (Days 2 to 5) - 3 Nights Accommodation Lord Howe Island

Travel to your Lord Howe Island accommodation where you will be staying whilst on vacation for 3 nights.

Lord Howe Island is the ideal location for visitors wanting to explore and discover the natural attractions that have made this island famous. Enjoy a leisurely stroll to popular Neds Beach where you can hand feed the fish, swim and snorkel; or wander down to the beautiful reef fringed lagoon, where you can swim in the crystal clear water and laze on the white sandy beach.

Your vacation accommodation units are nestled in subtropical palm groves alive with splashes of colour from Hawaiian hibiscus and fragrant frangipani flowers. The grounds are well planned, with tracks meandering through the palms and gardens, giving a sense of seclusion and tropical mystery.

Accommodation facilities include outdoor and undercover gas barbecues on paved, well-lit areas, small library with a selection of books and magazines, and also internet connection for laptop computers.

Pushbike is the main form of transport on the Island however, complimentary bus services are available in the evenings to transport you to and from the restaurants.

Includes courtesy bus for airport transfers.

Serviced rooms upgrade available

Mon - Tues (Day 3 to 4) - Scuba Dive the Lord Howe Island Marine Santuary (4 Dive Package)

Enjoy Four Dives in the New South Wales Marine Park off the coast of one of the worlds most beautiful World Heritage listed islands. Warm tropical waters and cooler currents have created a diverse range of marine life, A unique mix of both tropical and temperate water fish...a diving paradise.

Morning double dives depart at 9am from the Boatshed and return approximately 1pm. Dive Sites are determined on the day of diving. We welcome suggestions of dive sites with particular diver's interests. With over 60 dive sites available we will not dive the same twice when possible unless requested. If diving boat diving is unavailable arrangements will be made for shore dives when possible. Dive Packages include any local dives with the exception of Ball's Pyramid which is an additional cost.




Insiders Tip: Walking and Hiking the Lord Howe Island Park Preserve

Although only 11km long and 2km wide, Lord Howe is laced with dozens of delightful, well-marked walking trails: nearly two thirds of the island is a Permanent Park Preserve. The choice ranges from easy strolls at sea level through lush Kentia palm and banyan forests, to moderate cliff-top hikes where you'll see seabirds wheeling on the thermals, to the challenging 875 metres.

The choice ranges from easy strolls at sea level through lush Kentia Palm and Banyan Forests, to moderate cliff-top hikes where you'll see seabirds wheeling on the thermals, to the challenging 875 metres MT GOWER CLIMB.

Maps and guides to the Lord Howe Island Park Preserve are available.

Wed (Day 5) - Domestic Flight from Lord Howe Island to Cairns

Travel within Australia by domestic air from Lord Howe Island to Cairns.



Wed (Day 5 cont) - Shuttle Transfer from the Cairns Airport to Accommodation

Travel by shuttle from the Cairns Airport to your vacation accommodation in Cairns, Australia.

Luggage restrictions apply as per standard economy Australian domestic flights of 2 standard bags under 30kg (66 lbs) per passenger. If traveling with excess baggage please advise the shuttle company upon reservation confirmation so appropriate trailer size is available.

Departures occur approximately 30 minutes after aircraft arrival-time for domestic flights. For international flights this will be considerably longer because of customs and other formalities.

Wed (Days 5 to 6) - 1 Night Accommodation in Cairns

Travel to your accommodation Cairns, Australia, where you will be staying whilst on vacation for 1 night.


Your 4.5 star accommodation combines contemporary decor with a tropical ambience. The magnificent location of this 176 room hotel is perfect for exploring the Great Barrier Reef, the Daintree Rainforest or Kuranda and the Atherton Tablelands. Other nearby highlights include: Cairns Casino, Marlin Jetty, the Esplanade and the Night Markets. Unwind with a cocktail by the pool or bar followed by a sumptuous meal at the award winning Bushfire Flame Grill.

All rooms and suites have individual balconies, individually controlled air conditioning, refrigerator, television, broadband internet access, hair dryer, iron and ironing board, along with tea and coffee making facilities. Facilities include: 24 hr reception, tour desk, wireless internet, Bushfire
Flame Grill, bar, pool, business services on request, coin operated laundry on four floors, room service, laundry & dry cleaning.

Thur - Mon (Days 6 to 10) - 4 Night Liveaboard Dive Expedition Great Barrier Reef

For Live-Aboard diving enthusiasts this live aboard dive trip represents the ultimate dive vacation. Dives include Osprey Reef, on the Coral Sea with other sites such as Cod Hole, Dynamite Pass, North Horn, Bougainville Reef, Steve's Bommie, Temple of Doom and Flare Point. With Gourmet Meals and the Outstanding Level of Service you will feel like you are aboard your own private yacht.

Sample Itinerary

Day 1: Scenic Flight to Live-Aboard Dive Boat

Transfer from Cairns Accommodation to Cairns airport to catch your twin-engine light aircraft for your amazing scenic flight over the reef to Lizard Island. You will be greeted on arrival and transferred to the Sleek and Stylish dive vessel to depart for the reef. This afternoon you will have the opportunity for two dives before departing in the late evening for Osprey Reef, in the Coral Sea. The dives may be at sites such as the famous Cod Hole and turquoise waters of the Ribbon Reefs.

Day 2 & 3: Diving Osprey Reef

Australia's Coral Sea reefs are renowned for crystal clear water with an average visibility in excess of 100 feet. Two days can be spent diving at remote Osprey Reef, including North Horn for an unforgettable Shark Dive. You can expect to see grey whalers, silvertips, reef sharks, occasional hammerheads, schooling barracuda, trevally, and other pelagics are common. The landscape is amazing with sheer walls laced with gorgonians, sea whips, and bright yellow soft corals rising from thousands of feet below.

Day 4: Dive Bougainville Reef or in the Ribbon Reefs

Depending on the weather and sea conditions you will dive the spectacular Bougainville Reef or perhaps return to the Ribbon Reefs to dive the sensational Steve's Bommie, Temple of Doom, Flare Point, and other spectacular dive sites. After dinner on Sunday evening we will cruise overnight back to Cairns.

Day 5: Arrive into Cairns

Arrive in Cairns early morning. A fabulous Breakfast will be served on board and transfers will be arranged. You will have the day free to explore Cairns.

Please note that above itinerary is a sample only and sites may vary or the sequence may change. Access to the Cod Hole and the Coral Sea is weather conditional and while every attempt will be made to keep to the advertised itinerary, the Coral Sea and specific sites on the Great Barrier Reef are not guaranteed. Cabin types available: Quad, Double/Twin, Ocean View Standard, Ocean View Deluxe & Stateroom.

Not-included (payable on board): Fuel & Marine Park Levies

Mon - Wed (Days 10 to 12) - 2 Nights Accommodation in Cairns

Travel to your accommodation Cairns, Australia, where you will be staying whilst on vacation for 2 nights.


Your 4.5 star accommodation combines contemporary decor with a tropical ambience. The magnificent location of this 176 room hotel is perfect for exploring the Great Barrier Reef, the Daintree Rainforest or Kuranda and the Atherton Tablelands. Other nearby highlights include: Cairns Casino, Marlin Jetty, the Esplanade and the Night Markets. Unwind with a cocktail by the pool or bar followed by a sumptuous meal at the award winning Bushfire Flame Grill.

All rooms and suites have individual balconies, individually controlled air conditioning, refrigerator, television, broadband internet access, hair dryer, iron and ironing board, along with tea and coffee making facilities. Facilities include: 24 hr reception, tour desk, wireless internet, Bushfire
Flame Grill, bar, pool, business services on request, coin operated laundry on four floors, room service, laundry & dry cleaning.

Insiders Tip: Visit The Esplanade in Cairns

Experience the leisure atmosphere at the playground for locals and tourists alike at The Esplanade in Cairns!

With so many activities available The Esplanade has always been a focal point for this city. This is a place that literally has everything! Take a stroll and do some bird watching on the boardwalk but as you enjoy the views don't forget to stop off at Foreshore Promenade for a bite to eat at the many available restaurants. Access to The Lagoon is easy here which is set overlooking the Barrier Reef and Trinity inlet and features all year free swimming where you can take a dip in this filtered saltwater lagoon. Let the kids can play in the sandy edges and in the shallow waters while you lounge on the semi-shaded timber decks. For the kids, don't miss out on the Trinity Bay foreshore playground "Muddy" with equipment for all ages. For the older kids, stop off at the Skate Park to see some skaters and BMXers in action! Whether you decide to take a morning jog, fly a kite or just relax in the large grassy areas for some lunch you will surely enjoy the tropical lifestyle!

If you happen to be in Cairns on a Saturday be sure to check out the Weekend Markets which feature only locally made arts and crafts, clothing and much more. While you're there listen out for the live music and fun street characters. The market gets into full swing on the promenade (just by the lagoon) every Saturday between 8am - 4pm.

Lagoon Hours:
All Year, 6am-9pm
Closed Wednesdays until midday for maintenance


Wed (Day 12) - Shuttle Transfer from Cairns Accommodation to Airport

Travel by shuttle from your Cairns vacation accommodation to the Airport in Cairns, Australia.

Luggage restrictions apply as per standard economy Australian domestic flights of 2 standard bags under 30kg (66 lbs) per passenger. Excess baggage is AUD$5.00 per bag payable on board. If traveling with excess baggage please advise the shuttle company upon reservation confirmation so appropriate trailer size is available.

Wed (Day 12 cont) - International Flight from Cairns to Los Angeles

This morning depart Cairns and fly back to the USA via either Brisbane or Sydney. Note: You will be traveling back across the International Date line so you will gain a day. You actually arrive in the USA on the same day you leave Australia.

Your flight home will give you the opportunity to reflect on your Australian vacation. Please tell your friends if you have enjoyed the experience and direct them to "ABOUT AUSTRALIA " for information via our website at www.aboutaustralia.com






Print | More Information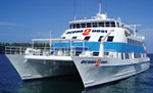 Click the following link to request a booking. Upon receipt of your request we'll prepare a Firm Quote for your travel dates:
[
Request a Firm Quote
]