Special Exploratory Expedition [SOF14spl]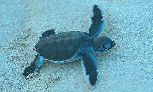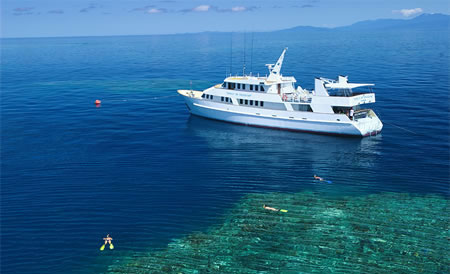 18 Days/ 16 Nights - Cairns & the Great Barrier Reef
Australia's north eastern town of tropical Cairns is the gateway for two of the world's greatest diving icons, the Great Barrier Reef and the Coral Sea. The Great Barrier Reef is a broad chain of 2,900 individual reefs and is the Earth's largest structure built by living organisms, being clearly visible from space. It is an ecosystem of unsurpassed marine diversity and presents the diver with a vision of exquisite natural beauty. Beyond the continental shelf that harbours the Great Barrier Reef, lie the isolated reef systems and crystal clear waters of Australia's Coral Sea. This is home territory for huge schools of pelagic fish and sharks in an undersea world of mountains, pinnacles and sheer walls laced with gorgonian fans and rising from thousands of feet below. The liveaboard dive vessel 14 Day Trip departs Cairns 3:00pm Monday, January 23rd & returns 6:00-6:30am Monday, February 6th.
Travel Package Features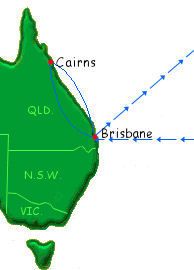 Accommodation - Cairns (1 Night), Live Aboard Diving Expedition (14 Nights), Cairns (1 Night)
International Flights -Los Angeles to Brisbane (Return)
US Domestic Flights not included (as per your own arrangements) -
Australian Domestic Flights - Brisbane to Cairns (Return)
Shuttle Transfers - Cairns Airport to Accommodation (Return)
All Other Day Tours are Optional and not included
Visa Issuance for entry into Australia (US$15.00 per person)
F.I.T. (Free & Independent Travel, i.e. this is not an Organized Group Tour)
All Taxes and Fuel Levies (Except where noted)
Itinerary is flexible and can be tailored to suit your needs.
Other Common Inclusions for Dive Packages:
Live-Aboard Diving Expedition includes: Transfers to/ from Cairns city accommodation, Opportunity for many dives, En-suite cabin with daily service, Chef prepared meals, Australian wine & soft drinks with evening meals.
Travel Package Detailed Itinerary
20th Jan 2012 (Day 1) - International Flight, Los Angeles to Cairns (via Brisbane)

Shortly after departing Los Angeles you will be served dinner and you will be given breakfast before landing.

Relax, watch some movies, and try to get some sleep!


Please confirm with the airlines at Check-in that they have all your Frequent Flyer information on record.

22nd Jan (Day 2) - Shuttle Transfer, Cairns Airport to Accommodation

Travel by shuttle from the Cairns Airport to your vacation accommodation in Cairns, Australia.

<b>Need to Know</b>
Luggage Restrictions: 1 checked bag and 1 hand luggage is free of charge per person in the shuttle. Additional luggage is 10$ each. Strollers are free. Bikes need to be in a bike bag. Fishing rods need to be broken down and in a container.

22nd - 23rd Jan (Days 2 to 3) - 1 Night Accommodation in Cairns

Travel to your accommodation Cairns, Australia, where you will be staying whilst on vacation for 1 night.

Your 4.5 star accommodation combines contemporary decor with a tropical ambience. The magnificent location of this 176 room hotel is perfect for exploring the Great Barrier Reef, the Daintree Rainforest or Kuranda and the Atherton Tablelands. Other nearby highlights include: Cairns Casino, Marlin Jetty, the Esplanade and the Night Markets. Unwind with a cocktail by the pool or bar followed by a sumptuous meal at the award winning Bushfire Flame Grill.

All rooms and suites have individual balconies, individually controlled air conditioning, refrigerator, television, broadband internet access, hair dryer, iron and ironing board, along with tea and coffee making facilities. Facilities include: 24 hr reception, tour desk, free wireless internet, Bushfire Flame Grill, bar, pool, business services on request, coin operated laundry on four floors, room service, laundry & dry cleaning.

23rd Jan-6th Feb (Days 3to17) - 14 Day Special Exploratory Expedition, Far Northern Great Barrier

Join Spirit of Freedom for a rare opportunity to dive the remote Far Northern Great Barrier Reef. Departing on 23 January 2012, the 14 day expedition will traverse the coastline from Cairns to Ashmore Reef, lying well to north-east of the tip of Cape York. One of the last totally pristine areas of the Great Barrier Reef, the Far Northern reefs are seldom visited by any boats, and many of the hundreds of reefs in the region, are yet to be explored.

The summer months of January / February are the best time to dive the outer walls of the Far Northern Reefs, offering a great chance of encounters with megafauna – Tiger Sharks, Manta
Rays and Whale Sharks are all regular visitors to this region, as well as even the occasional marlin. Divers can also expect a lot of shark action with Silvertip, grey reef and whitetip reef sharks commonly coming in close. The region abounds with masses of pelagic and reef fish and an incredible variety of colourful corals and invertebrates.

This time of year is also the nesting season for the Green Sea Turtle and the waters around Raine Island will be alive with turtles as they descend on the small coral sand cay. The first turtle hatchlings will also be making their way into the ocean, after those turtles that nested earlier in November and December. Raine Island is the largest and most important green sea turtle esting area in the world, and while the island is totally protected from access, the diving in the deep oceanic waters surrounding the island is superb. Divers should keep an eye out for tiger sharks as they also frequent the area to feed on the turtles.

The nature of this special trip is "Exploratory" and due to the remote destination, many of the reefs may never have been dived before. These dives will be interspersed with known sites at reefs such as Great Detached Reef, Ashmore Reef, Pandora's Entrance, Wishbone Reef, and Tijou Reef. The more well visited Ribbon Reefs will also be included in the itinerary, with 3 or 4 days at iconic sites such as the Cod Hole and Steve's Bommie. With around 50 dives scheduled in 14 days, in a diverse of range of habitats, in some of Australia's most remote regions, this is a
unique opportunity not to be missed.

ITINERARY OVERVIEW
DAY 1: Monday 23 JAN 3.00 pm boarding. No diving this day
Overnight steam to the Cod Hole.
DAY 2: Diving the Cod Hole & various sites on Number 10 Ribbon Reef
Overnight steam
DAY 2: Diving Tijou Reef region
Overnight steam
DAY 3 - 5: Diving Great Detached & Raine Island vicinity
Overnight steam Day 5
DAY 6 - 8: Diving Ashmore Reef region
Overnight steam Day 8
DAY 9: Diving Pandora's Entrance region
Short Overnight steam
DAY 10 - 11: Diving Yule and Wishbone Reef vicinity
Overnight steam
DAY 12: Diving Tijou and Black Rock region
Overnight steam
DAY 13: Diving Number 9 and 10 Ribbon Reefs
Short Overnight steam
DAY 14: Diving Number 5 Ribbon Reef including Steve's Bommie.
Overnight steam
DAY 15: Arrive back in Cairns 6 – 6.30am Light breakfast & hotel transfer at 07.30am

Itinerary notes: This itinerary is travelling to some of Australia's most remote reefs and will cover a
distance of approximately 1000 miles (500 miles each way). Be aware that the boat will be travelling many nights of the 14 days, with some stretches that may be as long as 15 or 16 hours. The above itinerary plan is purely a rough guide with exact reef locations and timings to be fully flexible, and determined by the Captain on the day. The itinerary is also weather dependent and may be changed to allow for the conditions at the time. The months of January/ February lie within our hurricane season and changes to the itinerary, including delayed departure or early return, may be required in the event of a cyclone in the region.

REMOTE LOCATION ADVICE
Please note that you will be travelling to remote locations where emergency medical assistance is not immediately available. At times Spirit of Freedom will be out of helicopter range and in an emergency we are limited to the speed of the vessel to reach the nearest accessible location. Satellite phone communication should normally be available however internet and web services will not be available.

MEDICAL & TRAVEL INSURANCE
All passengers MUST purchase a comprehensive Travel Insurance policy that includes
i) Trip Cancellation insurance, and
ii) Lost/damaged personal belongings or equipment
iii) Evacuation & Medical cover for remote area Scuba Diving.

Inclusive of Marine Park Levies, Fuel Levies, Cairns City hotel transfers, All meals, Soft Drinks, tea & coffee, daily cabin service, bed linen, bath and deck towels.

6th - 7th Feb (Days 17 to 18) - 1 Night Accommodation in Cairns

Travel to your accommodation Cairns, Australia, where you will be staying whilst on vacation for 1 night.

Your 4.5 star accommodation combines contemporary decor with a tropical ambience. The magnificent location of this 176 room hotel is perfect for exploring the Great Barrier Reef, the Daintree Rainforest or Kuranda and the Atherton Tablelands. Other nearby highlights include: Cairns Casino, Marlin Jetty, the Esplanade and the Night Markets. Unwind with a cocktail by the pool or bar followed by a sumptuous meal at the award winning Bushfire Flame Grill.

All rooms and suites have individual balconies, individually controlled air conditioning, refrigerator, television, broadband internet access, hair dryer, iron and ironing board, along with tea and coffee making facilities. Facilities include: 24 hr reception, tour desk, free wireless internet, Bushfire Flame Grill, bar, pool, business services on request, coin operated laundry on four floors, room service, laundry & dry cleaning.

7th Feb (Day 18) - Shuttle Transfer, Cairns Accommodation to Airport

Travel by shuttle from your Cairns vacation accommodation to the Airport in Cairns, Australia.

<b>Need to Know</b>
Luggage Restrictions: 1 checked bag and 1 hand luggage is free of charge per person in the shuttle. Additional luggage is 10$ each. Strollers are free. Bikes need to be in a bike bag. Fishing rods need to be broken down and in a container.

7th Feb (Day 18) - International Flight, Cairns to Los Angeles (via Brisbane)

This morning depart Cairns and fly back to the USA via either Brisbane or Sydney. Note: You will be traveling back across the International Date line so you will gain a day. You actually arrive in the USA on the same day you leave Australia.

Your flight home will give you the opportunity to reflect on your Australian vacation. Please tell your friends if you have enjoyed the experience and direct them to "ABOUT AUSTRALIA " for information via our website at www.aboutaustralia.com
Print | More Information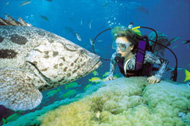 Click the following link to request a booking. Upon receipt of your request we'll prepare a Firm Quote for your travel dates:
[
Request a Firm Quote
]