Ocean Quest [DiveDD2]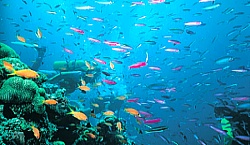 7 Days/5 Nights
Great Barrier Reef & Live-Aboard Diving Expedition
Cairns, Live-Aboard Diving Expedition (4 Days/3 Nights)
This itinerary departs from the USA on Friday evening with arrival into Australia on Sunday.
Stay in Cairns for one night before you board the diving vessel the next morning (Monday). After disembarking from the dive vessel stay in Cairns for one more night. Your arrival day back into the USA will be on Friday morning.
Australia's north eastern town of tropical Cairns is the gateway for two of the world's greatest diving icons, the Great Barrier Reef and the Coral Sea.
Cairns the colourful, sophisticated capital of the tropical north is alive with life and charm. Experience the majesty of this underwater playground which is one of the Seven Natural Wonders of the World, and is known as the Gateway to the Great Barrier Reef. Here, warm northern hospitality and enthusiasm are the order of the day. With many unique attractions and activities such as a cruise to the reef or islands, a 4WD safari to the outback, trek into the rainforest or see it from the rainforest cableway above its green canopy on your way to or from Kuranda. These year round natural attractions are truly memorable and inspiring.
Travel Package Features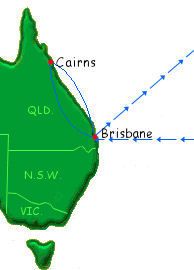 Accommodation - Cairns (1 Night), Live-Aboard Diving Vessel (3 Nights), Cairns (1 Night)
Shuttle Transfers - Cairns: Airport to Accommodation (return)
Live-Aboard Shuttle Transfers: Cairns: Accommodation to Liva-Aboard
Live-Aboard Diving Expedition includes: Opportunity for 15 dives, En-suite cabins & meals.
International & Australian Domestic Flights - Los Angeles to Cairns (via Brisbane), Cairns to Los Angeles (via Brisbane)
US Domestic Flights (Not Included) - Hometown to Los Angeles (Return)
Visa Issuance - Provides entry into Australia (USD$15.00 per person)
F.I.T. (Free & Independent Travel) - i.e. Not an Organized Group Tour
All Other Day Tours are Optional and Not Included (Is an additional cost)
Travel Package Detailed Itinerary
Day 1 (Fri) - International Flight from Los Angles to Cairns

Travel to Australia to start your vacation. After departing from Los Angeles you will be provided with an evening meal. You can relax, have a drink, watch a movie, review your itinerary or just rest. You will be given breakfast before landing in Cairns, Australia. (you lose one day crossing the International Date Line but don't worry you'll catch it up again on your return flight to the USA) This flight has a connection in Sydney or Brisbane.

The Qantas Boeing 747-400 is equipped with the latest entertainment features of any Airline. The overnight flight to Australia can be a good opportunity for sleeping or to watch the latest movies after your evening meal.

Please confirm with the airlines at Check-in that they have all your Frequent Flyer information on record.

Day 2 (Sun) - Shuttle Transfer from Cairns Airport to Hotel

Travel by shuttle from the Cairns Airport to your vacation accommodation in Cairns, Australia.

Luggage restrictions apply as per standard economy Australian domestic flights of 2 standard bags under 30kg (66 lbs) per passenger. If traveling with excess baggage please advise the shuttle company upon reservation confirmation so appropriate trailer size is available.

Departures occur approximately 30 minutes after aircraft arrival-time for domestic flights. For international flights this will be considerably longer because of customs and other formalities.

Day 2 - 3 (Sun to Mon) - 1 Night Accommodation in Cairns

Travel to your accommodation Cairns, Australia, where you will be staying whilst on vacation for 1 night.


Your 4.5 star accommodation combines contemporary decor with a tropical ambience. The magnificent location of this 176 room hotel is perfect for exploring the Great Barrier Reef, the Daintree Rainforest or Kuranda and the Atherton Tablelands. Other nearby highlights include: Cairns Casino, Marlin Jetty, the Esplanade and the Night Markets. Unwind with a cocktail by the pool or bar followed by a sumptuous meal at the award winning Bushfire Flame Grill.

All rooms and suites have individual balconies, individually controlled air conditioning, refrigerator, television, broadband internet access, hair dryer, iron and ironing board, along with tea and coffee making facilities. Facilities include: 24 hr reception, tour desk, wireless internet, Bushfire
Flame Grill, bar, pool, business services on request, coin operated laundry on four floors, room service, laundry & dry cleaning.

Day 3 - 6 (Mon to Thur) - 3 Night Liveaboard Dive Expedition Great Barrier Reef

Deep Sea Divers Den's 4 Day/3 Night Great Barrier Reef Live-Aboard Diving Expedition on "Ocean Quest".

Day One - 4 dives*
8.00am pick up from your city accommodation
9.00am Board our fast modern transfer boat for 90 minute transfer to Outer Barrier Reef
Equipment selection
2 dives and lunch before transferring to OceanQuest
2.30pm transfer to OceanQuest
Afternoon dive and night dive
Lunch, dinner and accommodation included.

Day Two - 4 dives*
Three day dives, One night dive
Breakfast, lunch, dinner and accommodation included.

Day Three - 4 dives*
Three day dives, One night dive
Breakfast, lunch, dinner and accommodation included.

Day Four - 3 dives*
Three pleasure dives
Breakfast, and lunch are included
3.00pm Depart Outer Barrier Reef
Return to your accommodation approx. 5pm
7.30pm - Party Time! Join the boat crew & passengers at a local restaurant.

You can also do the PADI Advanced dive course during this trip.

*indicates maximum number of dives available.

Day 6 - 7 (Thur to Fri) - 1 Night Accommodation in Cairns

Travel to your accommodation Cairns, Australia, where you will be staying whilst on vacation for 1 night.


Your 4.5 star accommodation combines contemporary decor with a tropical ambience. The magnificent location of this 176 room hotel is perfect for exploring the Great Barrier Reef, the Daintree Rainforest or Kuranda and the Atherton Tablelands. Other nearby highlights include: Cairns Casino, Marlin Jetty, the Esplanade and the Night Markets. Unwind with a cocktail by the pool or bar followed by a sumptuous meal at the award winning Bushfire Flame Grill.

All rooms and suites have individual balconies, individually controlled air conditioning, refrigerator, television, broadband internet access, hair dryer, iron and ironing board, along with tea and coffee making facilities. Facilities include: 24 hr reception, tour desk, wireless internet, Bushfire
Flame Grill, bar, pool, business services on request, coin operated laundry on four floors, room service, laundry & dry cleaning.

Insiders Tip: The Esplanade

Experience the leisure atmosphere at the playground for locals and tourists alike at The Esplanade!

With so many activities available The Esplanade has always been a focal point for this city. This is a place that literally has everything! Take a stroll and do some bird watching on the boardwalk but as you enjoy the views don't forget to stop off at Foreshore Promenade for a bite to eat at the many available restaurants. Access to The Lagoon is easy here which is set overlooking the Barrier Reef and Trinity inlet and features all year free swimming where you can take a dip in this filtered saltwater lagoon. Let the kids can play in the sandy edges and in the shallow waters while you lounge on the semi-shaded timber decks. For the kids, don't miss out on the Trinity Bay foreshore playground "Muddy" with equipment for all ages. For the older kids, stop off at the Skate Park to see some skaters and BMXers in action! Whether you decide to take a morning jog, fly a kite or just relax in the large grassy areas for some lunch you will surely enjoy the tropical lifestyle!

If you happen to be in Cairns on a Saturday be sure to check out the Weekend Markets which feature only locally made arts and crafts, clothing and much more. While you're there listen out for the live music and fun street characters. The market gets into full swing on the promenade (just by the lagoon) every Saturday between 8am - 4pm.

Lagoon Hours:
All Year, 6am-9pm
Closed Wednesdays until midday for maintenance


Day 7 (Fri) - Shuttle Transfer from Accommodation to Cairns Airport

Travel by shuttle from your Cairns vacation accommodation to the Airport in Cairns, Australia.

Luggage restrictions apply as per standard economy Australian domestic flights of 2 standard bags under 30kg (66 lbs) per passenger. Excess baggage is AUD$5.00 per bag payable on board. If traveling with excess baggage please advise the shuttle company upon reservation confirmation so appropriate trailer size is available.

Day 7 (Fri) - International Flight from Cairns to Los Angeles

This morning depart Cairns and fly back to the USA via either Brisbane or Sydney. Note: You will be traveling back across the International Date line so you will gain a day. You actually arrive in the USA on the same day you leave Australia.

Your flight home will give you the opportunity to reflect on your Australian vacation. Please tell your friends if you have enjoyed the experience and direct them to "ABOUT AUSTRALIA " for information via our website at www.aboutaustralia.com



Print | More Information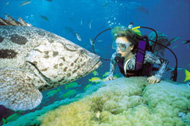 Click the following link to request a booking. Upon receipt of your request we'll prepare a Firm Quote for your travel dates:
[
Request a Firm Quote
]